Services
Labor Law
Tarjoamme työoikeudellisia lakipalveluja niin yrityksien kuin työntekijänkin näkökulmasta.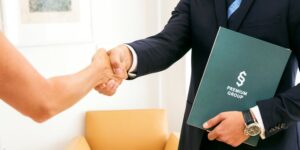 Työoikeus on tärkeä ja alati muuttuva oikeudenala, joka vaikuttaa jokaisen työtä tekevän ja tarjoavan asemaan. Työoikeudelliset kysymykset ja lainsäädäntö voivat kuitenkin tuntua hankalilta ja tuottaa turhaa päänvaivaa. Me Premiumissa tarjoamme työoikeudellisia lakipalveluja niin yrityksien kuin työntekijänkin näkökulmasta.
Työntekoon liittyvistä erimielisyyksistä voi myös helposti syntyä iso, pitkä ja kallis riita-asia. Osaavan juristin apua kannattaakin hyödyntää jo ennakollisesti ennen isompien riitaisuuksien syntymistä, jolloin ratkaisu on usein molemmille osapuolille mieluisampi ja edullisempi. Autamme sinua työsuhteeseen liittyen niin arkipäiväisemmissä asioissa, kuten työsopimusten laadinnassa ja päivittämisessä, kuin myös erityistilanteissa, kuten henkilöön liittyvissä tai tuotannollistaloudellisissa irtisanomisissa, yt-neuvotteluissa, lomautuksissa, työsuhteen päättämissopimuksissa, uudelleenorganisoinneissa sekä työoikeudellisissa riidoissa. Teemme myös kartoituksen siitä, onko yrityksessäsi kaikki työoikeuden vaatimukset huomioitu oikein ja neuvomme yritystä toiminnan organisoinnissa – jo ennakkoon, jotta haastavia tilanteita ei syntyisi.
Tarjoamme esimerkiksi seuraavia palveluita:
työsopimuksien laatiminen työnantajalle tai sisällön tarkastaminen työntekijän puolesta
yleissitoviin työehtosopimuksiin liittyvät selvitystyöt
yhteistoimintaneuvotteluihin liittyvät palvelut
työoikeudelliset riidat (niin sovintoneuvottelut kuin tarvittaessa oikeudenkäynnitkin)
Price 310 eur / hour inc. VAT (250 eur + VAT)
Contact request
If you want more information about our services or have any questions regarding our services, please contact us or send us a short message and we will get back to you as soon as possible.
General inquiries
office@premiumgroup.fi
+358 (0) 9 622 2605